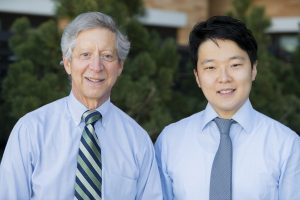 As many of you already know, Dr. Stephen M. Friedman retired in 2020. We were blessed to have such a caring clinician who is focused on offering the highest quality dentistry for 45 years. Please take the time to read the kind words Friedman has written to you and your family.
September 30. 2020
Dear Valued Friends and Patients.
It is with mixed emotions that I find myself writing this letter to some of the most wonderful people I have had the pleasure of knowing. I am deeply honored to have been your dentist over the years. and I have appreciated each of you. Although dentistry is a demanding profession. l have enjoyed coming into the office to see my patients for over 45 years. After much thought however. I realize the time has come to tum over my practice to a great young dentist named Dr. John Lee. I have searched for a dentist who would care for you as I have, and I feel that I have found that person in Dr. Lee. The office staff has met Dr. Lee and they also give their endorsement. Your patient records will remain with the practice as will my current staff. I will be staying with the practice for a while on a limited basis to assist with the transition.
Dr. John Lee graduated from Indiana University School of Dentistry in 2014. Upon graduation Dr. Lee began working as a dentist in Indiana and Illinois for 5 years. To keep in touch with his peers and learn the latest technology, Dr. Lee seeks out a variety of continuing education opportunities and holds memberships in many professional organizations, including the American Dental Association, Colorado Dental Association, Academy of General Dentistry and American Academy of Implant Dentistry. Quality dentistry and patient comfort are his highest priority. Dr John Lee is an experienced dentist and I believe you will find him to be totally committed to the philosophy of dental and patient care that I have lived by. Now Dr. Lee is realizing his goal of practicing in the Cherry Creek area and is excited to have relocated here with his wife, Chloe, and their two young children. As an active young family, they look forward to exploring and learning about all the opportunities and activities Colorado has to offer.
I am sincerely grateful to you for allowing me to be your dentist. The degree of success I have attained within my profession has been mostly the result of my relationships with you. The hardest part will be losing regular contact with all of you. Thank you for your support throughout the years and your kind referrals of family, friends, and coworkers. We have the best patients in the world! Your support of Dr. Lee and referrals to him would be the ultimate compliment to us.
Sincerely,
Stephen M Friedman, D.D.S.
Dr. Friedman started practicing as a Dentist in Cherry Creek in 1975. His love of dentistry and his patients provided him with a very successful practice.
Dr. Friedman no longer is actively practicing as a full-time Dentist however, his love of the practice still brings him in to spend part-time days with us.